Friday we arrived at the hotel around 4ish. I waited in the car while Chuck went to sign us in. We parked by a white truck and I was thinking, "I wonder if that's Anne's truck." I look up from the book I was reading and see Chuck coming to the car with Anne beside him. She had been in the lobby and heard Chuck check in.
We hugged like we were old friends and felt right at ease from the beginning. I read that Anne said she was shy. I had no idea! She always seems so outgoing.
Off to hit the Riverwalk for dinner and exploration.
Ordered a delicious salad, low carb like. When in Rome...or amongst low carbers. ;-)
Chatted and got to know each other better but it really did feel like we've known each other for ages. Conversation flowed easily.
It's so hard to get a picture of someone who won't cooperate.
Close enough.
Time to explore the Riverwalk!
Then Anne treated to a carriage ride. Thanks, Anne! It was perfect. The carriage had lights on it and the driver was great. He showed us around and gave us the history of the buildings. SO much fun. I wish you could have been there.
Dan the horse gave Anne a big frothy kiss on the hand.

And of course we had to see.......
Then to the lobby of the beautiful and historical Menger Hotel. It's supposed to be haunted. ooooooo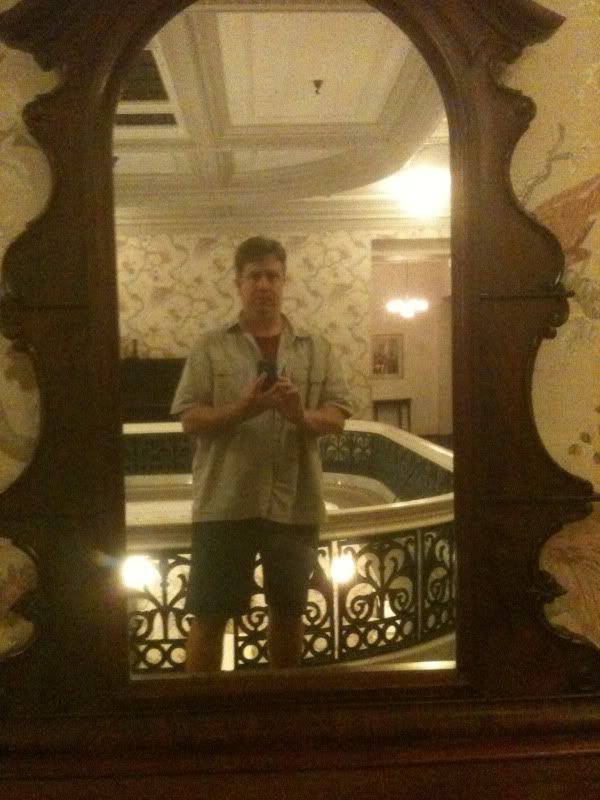 No mirror ghosts tonight.
Phone booths? What are those?

After the exploration ended, we headed back to the hotel for some rest. The next day was full of even more adventure. Can't wait to share it with you.