5k to Couch. A new program. What do you mean you've never heard of it? It's where you are sticking to a running schedule and doing great then start to slack off more and more until you have to start over. 5k to Couch.
That has been me. I haven't run in 4 weeks. The last time I ran was when Chuck and I did a duathlon for Lori's Healthy Heart Blogger weekend in early February. (Wow, has it really been that long?!)
Things got busy. I got lazy. I'm sure I could find an excuse but the truth of the matter is that I haven't been running and I need to get back at it.
Remember how Chuck and I were going to join a running team? I had to email the organizer to tell her that we weren't going to join this session because we would miss over half the runs. Just something going on every Saturday.
That's about to change. Starting today. Going for a nice 3 mile run today. :) I'm doing intervals because it's just how I prefer to run. Probably 30:45 seconds (run:walk)
Friday Chuck and I had a date night to a hockey game. He'd never been to one. It was a lot of fun! We'll definitely be doing this again. It was the Houston Aeros against the Manitoba Moose. Aeros lost.:( But we still had a great time. The whole atmosphere was an experience. And afterwards we walked up 5 flights of stairs to get back to our car. A little exercise, right?
Went to a fight and a hockey game broke out.
Saturday we had tickets to take the kids to see Blue Man Group again. Just as awesome as always.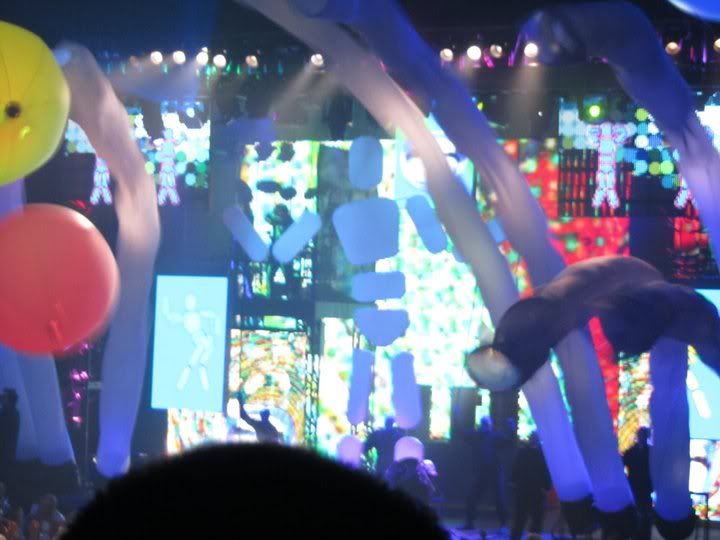 Rachel was THRILLED to have her picture taken with one of the Blue Men.

Eating News: I've been doing great during the week. The weekend gets me. I start out great every day. Do fine at lunch. Dinner gets me. Seems like when we're out having a good time I want to order whatever I want regardless of what I'm supposed to be eating.
For instance, Friday was great all day. Then at the hockey game I had 2 beers and split a soft pretzel (a super weakness for me) with Chuck. Then I had a few peanuts but that's not so bad. After the game we went to Buffalo Wild Wings where I had a couple of onion rings, 7 boneless wings and a Long Island Tea that was too sweet.
Saturday I started the day great. Lunch I stuck to my eating plan (a small steak and steamed veggies and salad). We discovered a new Mediterranean restaurant nearby that we had to visit. I sampled hummus, falafel, grape leaves and ate most of my gyro. Oh, and a homemade baklava. Jeez, Kelly!
So I'm pretty sure that the past couple of days I've taken in more calories than I've burned. We all know what that means.
The only thing to do is exercise more and watch what I eat. I'm not worried. I'm not even beating myself up over it. Sometimes life happens and then you get back at it.
I hope you've been having a great weekend as well. Now time to have some coffee, lace up some neglected running shoes and hit the streets. :)