Monday. My hip joints were so sore it was difficult to walk. My quads were a little sore but not too bad. Just from missing 4 weeks of running? Use it or lose it. It's almost comical to be this sore. I feel like I'm starting over. Wasn't I running 6 and 7 seven miles before? What happened?!
I had to go to the grocery store and what did they have on sale?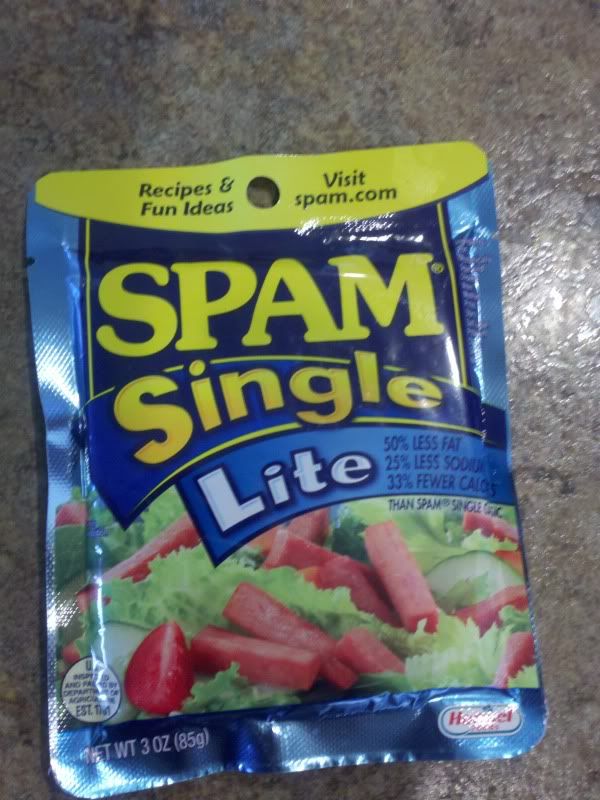 My mom would make fried Spam sandwiches for me when I was a kid but she used the real Spam. Did your mom? Somehow I got a little nastalgic and bought a package. $1.
Meh. Mine didn't taste like the ones mom used to make. Probably best. It wouldn't surprise me if she cooked ours in Crisco years ago.
Light Spam sandwich with cheese and a Jazz apple

I also made an impulse purchase at the store: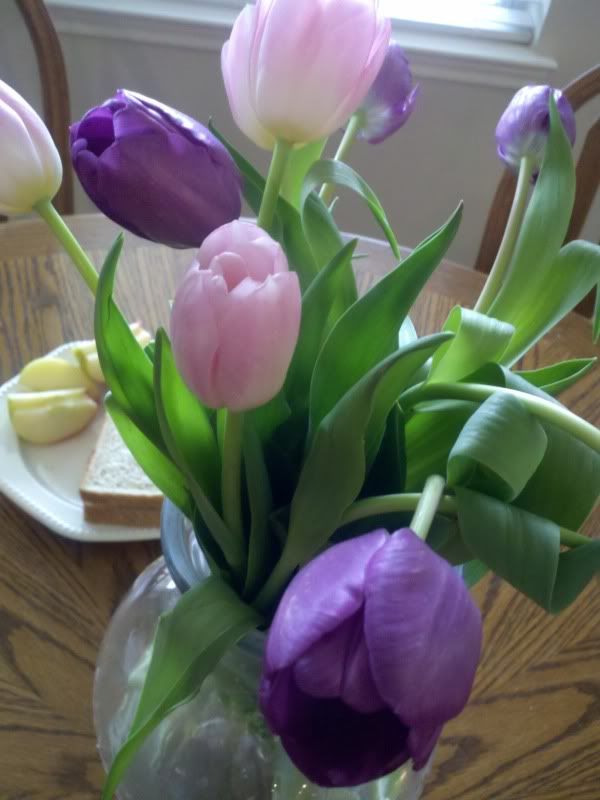 They were just so pretty and spring-like that I had to have them. Purple and pink tulips. How could I resist?
Still taking my huge Glucophage crumbs 3x a day:
The largest I can take without getting sick.

These are the quick release pills instead of the extended release. I wouldn't be able to crush the XR and take crumbs. Still hoping that I either get used to taking these or I can stop taking them. One or the other.
Chuck got home from work while there was daylight outside! LOVE this time of year.
I put on a pork loin roast and we went for a walk. My poor hip joints were so stiff but I think it was good to work them out gently.
3.1 miles in 56 minutes. We weren't setting any speed records, that's for sure. But the evening was nice and the company was perfect.
Then it was time for dinner and a cup of sleepytime tea. And a little action with the foam roller on some slightly sore quads. :)
Breakfast-2 fried eggs, light toast, sugar free chocolate milk
Lunch- light spam sandwich with mayo and cheese; Jazz apple (wasn't that great, the apple was the best part)
Snack-low carb carrot cheesecake yogurt
Dinner-roast pork loin, 1/2 cup mashed potatoes, spinach, small slice sugar free lemon cake (90 calories)
Hunger: almost none except when it was time to eat
I was also a good girl and took all of my meds:
800 units Vitamin D 3 times
Gosh that seems like a lot of pills. Hopefully one day I can get off of some of these.
It's absolutely gorgeous outside. I'm thinking a bike ride may be in order. Hope your area is starting to show signs of spring too! In this part of Texas, we get about 3 weeks of spring (if we're lucky) then it's summer. So we have to enjoy every minute we can. :)