Happy Birthday to me! :)
I wasn't sure how I'd feel about turning the big 4-0 but honestly I feel pretty good. I think I look better than I did at 30. I'm more comfortable in my own skin, not afraid to be myself, and am actively enjoying life. It's allllll good.
My last day as a 39 year old was Friday. Rachel had a class so we took her to that. On the way my minivan decided to just die. No reason. Just die. It started right back up after we pulled over but still. Didn't it know that I have a trip planned?!
Let me tell you, that van was almost ousted from the family. Chuck was ready to go shopping immediately for a newly used car. As of now, Vincent Van Go is still part of the family. We're just going to have to figure out what's wrong with it. This is my last minivan. I am so not a soccer mom. Not that there's anything wrong with soccer moms. It's just not my personality. Maybe an Audi coupe. ;-) Now is just not the right time for that.
The stress of car problems made me go into sleep mode. It's the way I handle stress for some reason. I just get tired suddenly. Don't you just hate car problems?
While I took a nap Chuck went to get my birthday gift.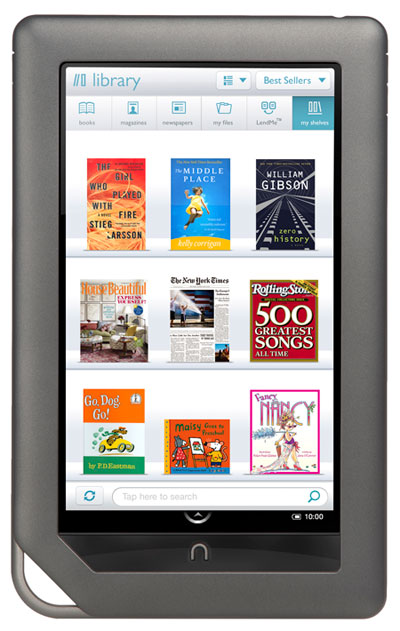 A Nook color!!!
I've wanted one for a while but just never actually thought about getting one for myself. It was such a sweet gift. I've downloaded a couple of apps, have my email set up, and a couple of books (Water for Elephants and Bossypants).
LOVE IT!
Later we went out for a quick bite at Whataburger. I had a grilled chicken salad but mostly just ate the chicken and a little bit of lettuce. Wasn't very hungry.
Then to Dessert Gallery to pick up my free slice of cake.
toffee cake
This stuff is SWEET! I had about 4 bites and brought the rest home.
So the day before my birthday was fun (I'm not even going to think about the car issues) and we're just getting started.
Charlie made me a beautiful necklace but I'm going to share that pic tomorrow. It's a giant piece of quartz dangling from a homemade keychain necklace. The quartz, according the jewelry maker, is supposed to simulate a diamond. Maybe a 60 carat? Yes, I'll be wearing my new necklace all day. Pictures to follow. I'll be checking into the Crowne Plaza proudly wearing my new jewels. :)
Have a wonderful weekend. I'm going to be celebrating 40 and enjoying every minute of it. And Happy Birthday to all the other May 28th folks out there!